| Total Number of Kittens Produced at Sassy Koonz | 80 (as of July 23, 2021) |
| --- | --- |
| Total Cases of Feline Infectious Peritonitis (FIP) | 0 |
| Total Cases of Hypertrophic Cardiomyopathy (HCM) | 0 |
| Total Cases of Spinal Muscular Atrophy (SMA) | 0 |
| Total Cases of Hip Dysplasia | 0 |
| Total Cases of Polycystic Kidney Disease (PKD) | 0 |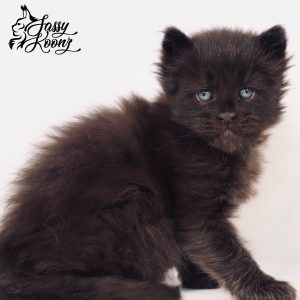 Our Maine Coon Kittens for adoption are raised underfoot in our home. They're well loved, played with and adored by my family, all of our friends and neighbors. They also hang out with our Shih Tzu, and several adult Coonies. You can expect a well socialized, magnificently loved kitten from Sassy Koonz.
If you are on our pre-approved Guardians list, you are eligible to adopt one of our Maine Coon kittens.
---
How Much Are Sassy Koonz Kittens?
The fee to adopt a Sassy Koonz kitten is currently $3,500 for Pets
No Breeding Rights Are Available For Any Kittens At This Time
[Delivery Service Available anywhere in the United States– Inquire about pricing if interested]
---
I take great pride in selecting the cats for breeding that are close to Breed Standard as I can possibly find. Maintaining the integrity and great beauty of this breed is very important to me. That's what you, the pet owner tends to focus on the most. Behind the scenes, however, you'll feel confident knowing that as your breeder, I'm researching the bloodlines [Pedigrees], the health history, and genetically testing every single cat that is used in my breeding program.
Are you considering other breeders to get your Maine Coon Kitten from? Here's a helpful checklist on How to Choose the Best Maine Coon Breeder.
If you're price shopping for the cheapest kitten, then a Sassy Koonz kitten probably isn't your best option. There are certainly other breeders who sell their kittens for less. If you're looking for the highest quality, most beautiful, well socialized, happiest, classiest – and sassiest kitten around, then you'll probably want to become an Approved Guardian and take the next steps!
Our Kittens come with a Five Year Health Promise and Guarantee
---
NOTICE: If you're interested in a Sassy Koonz Maine Coon Kitten, the best way to get notified about available kittens is to be on our Approved Guardians list. Our kittens are never made available to the public in a random fashion.
Sassy Koonz does not have a "waiting list". Everyone has the same opportunity to reserve a kitten as long as you're an Approved Guardian. No deposits are taken in advance, only at the time of reservation. Any kittens that are available will be listed as AVAILABLE on the Maine Coon Kittens page.
The Maine Coon Adoption Process
STEP # 1 -Become a Pre-Approved Future Guardian – This is the first step in the Sassy Koonz adoption process. No one will be notified about available kittens or considered for a kitten without an approved application.
If you're approved, you'll receive a username and password that will allow you to login to the Sassy Koonz website and view Exclusive Approved Guardian content only. You'll also have the option to receive instant text message notifications so that you're notified as soon as a kitten is made available.
STEP # 2 – Keep your eyes on the Maine Coon Kittens Page. The process will typically be the following (but is subject to change)
(INITIAL PICKS) Sassy Koonz reserves the right to reserve any kitten at any time to anyone without offering it to the public first. There are several people that get to choose a kitten FIRST [Me, Other Breeders, Hand Picked Guardians, and Anyone who already has one of my kittens and wants to reserve another one]. This means that you may see a kitten on the website, and it never becomes available. It goes directly from "Not Available Yet" to a "Reserved" status.
Photos will be posted of the kittens and they will have a status of "NOT AVAILABLE YET". Photos will be updated bi-weekly on the website and on our Facebook Page.
After the initial kitten picks are complete, any remaining kittens will become available. Once a date is determined that the kitten is available, the date will be posted on the website (on the kitten's profile page)
Once the kitten is ready to reserve, a text message will be sent to Approved Guardians notifying that the kitten is open for reservation.
*You can also watch for photo updates on our Facebook page. Click the "Show First" rule in Facebook so that you don't miss new photos of the kittens.
STEP # 3: Pick your Favorite Sassy Koonz Kitten. When the kitten is available for reservation, the status will change on the website and you will use your username and password to log in and reserve your kitten with a Non-Refundable Deposit equal to 50% of the price of the kitten. The kittens will be reserved on a first-come, first-serve basis.
While you are waiting for your new kitten to come home, you'll receive weekly photos updates and videos so that you can watch your kitten grow, develop, and become the gorgeous Maine Coon that you've been dreaming of!
STEP # 4 – Arrange Delivery/Pickup of Your Kitten. Once the kitten has earned his/her health certificate from the veterinarian, we will arrange for delivery or pickup of your kitten to go home when he/she is between 11-12 weeks old.
There are several options available about how to get your kitten when it's time for him/her to come home. Read the information on this page about Delivery options.
NOTE: This process does not apply to breeders. If you're interested in a kitten with breeding rights, please contact me and we'll discuss further.
---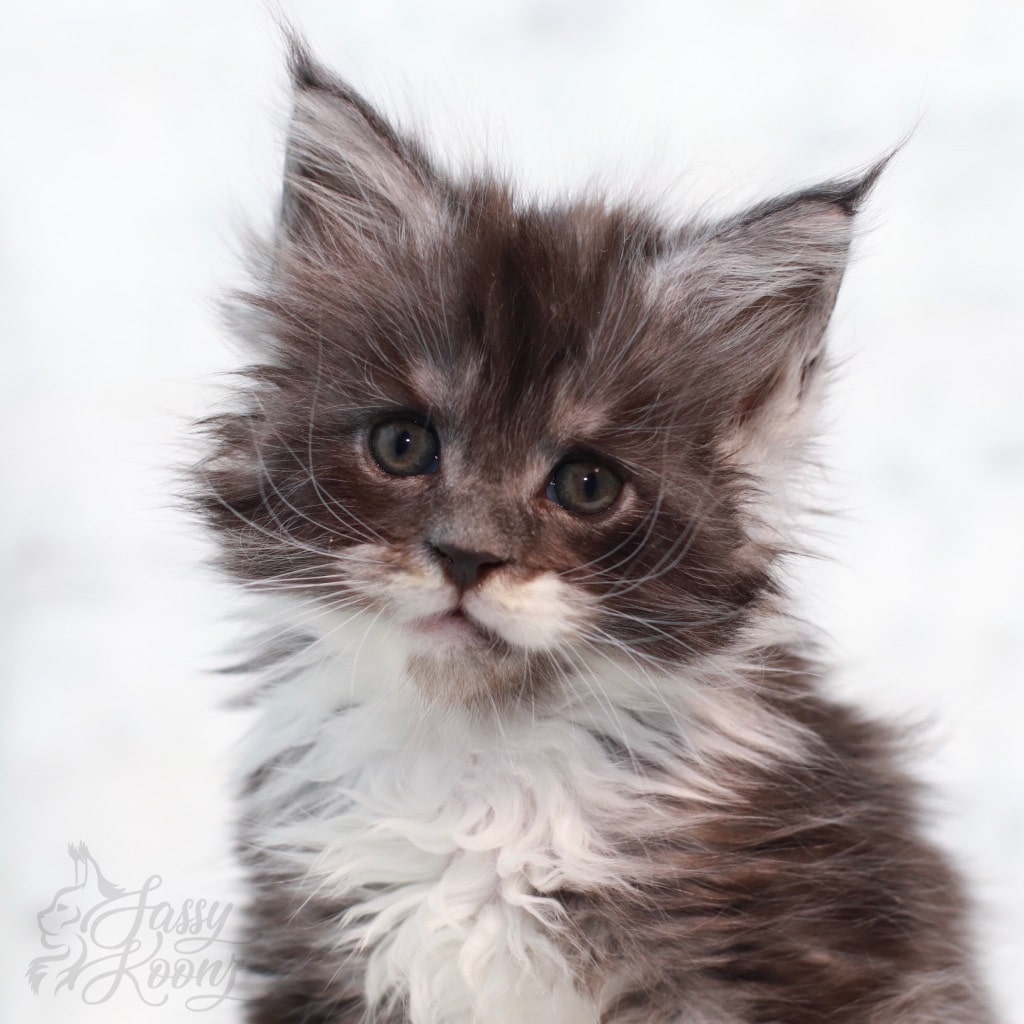 Health Promise and Guarantee
At eight weeks of age, your kitten will visit our Board Certified Veterinarian. He/she will receive a thorough examination, Fecal Float Test, Parasite Check, FIV/FELV test, and first set of FVRCP Vaccines.
With a clean bill of health, the doctor will produce a Certificate of Health for your kitten stating that the kitten is in good health and condition and there are no obvious signs of illness or parasites. You'll be provided with a copy of the Health Certificate for your records.
Producing a Health Certificate for your kitten is required for sale in the State of Florida.
---
Sassy Koonz Health Guarantee
We've taken extra steps to ensure that our breeding parents are 100% healthy before pairing them. This means each parent owned by Sassy Koonz, male and female, have had full genetic DNA profiles performed on them, checking for Blood Type and 33 Genetic Risks in this breed.
If we determine that one of our breeding adults has health issues that could be detrimental to that of their offspring, they will be spayed/neutered and rehomed. We strive to use only the highest quality cats in our Maine Coon Breeding program.
Tests and results for each parent of the kittens can be found on their individual web pages. All Sires and Dams in our breeding program are free from HCM, SMA, PK, FIV, and FELV.
[Effective for any kitten purchased after April 6, 2020] Every kitten from Sassy Koonz Maine Coon Cattery will come with a Five Year Health Guarantee!! Nearly every other breeder in the country only provides a One Year Guarantee, so be sure you check into this before you make a decision on where to adopt your Maine Coon Kitten from.
---
---
Cystinuria
Erythrocyte Pyruvate Kinase (PK) Deficiency
Factor XII Deficiency
Hypertrophic Cardiomyopathy (HCM)
Spinal Muscular Atrophy (SMA)
Feline polycystic kidney disease
Blood-brain Barrier Dysfunction
Hemophilia B, mutation F9: c.1014C>T
Hemophilia B, mutation F9: c.247G>A
Congenital Adrenal Hyperplasia
Autoimmune Lymphoproliferative Syndrome
Congenital Hypotrichosis with Short Life Expectancy
Acute Intermittent Porphyria
Chylomicronemia, Lipoprotein Lipase Deficiency
Congenital Erythropoietic Porphyria
Dihydropyrimidinuria
Mucopolysaccharidosis type I
Mucopolysaccharidosis type VI
Mucopolysaccharidosis type VII
Vitamin D Dependent Rickets
Congenital Myasthenic Syndrome (CMS)
Myotonia Congenita
Periodic hypokalemic polymyopathy
GM1 gangliosidosis
GM2 gangliosidose
Niemann–Pick C2 disease
Niemann–Pick C1 disease
Glycogen storage disease type IV
Progressive retinal atrophies
Retinal dystrophies
Hyperoxaluria
Frontonasal dysplasia
osteochondrodysplasia
Sassy Koonz also offers a two year health guarantee against FIP.
---
Delivery of Your Maine Coon Kitten
You Pick up In Jacksonville Beach, FL [No Charge]
You Pick Up At Jacksonville International Airport [No Charge] -If you decide to fly to Jacksonville to pick up your kitten then we'll meet you at the airport with your kitten in a pet carrier. Just be sure to book the return flight home to include a pet. The carriers we use are approved for airlines.
White-Glove Delivery Service to Your Front Door – [Additional Fee-Based on Location, Limited to 450 Miles from Jacksonville Beach, FL ] Your kitten will get the white glove delivery service provided by Sassy Koonz Maine Coon Cattery. Your kitten will travel by car, equipped with a full-length back seat travel tent with a litter pan, water and toys. This is great for the kitten because sometimes they get a nervous tummy while traveling in the car! Your Kitten gets Shampoo and Fluff Blow-Dry the day before traveling home, Breakaway collar with Bell, Goodie Bag Full of Toys, Framed High Gloss Color [Never Seen Before] Photo of your Kitten, travel carrier, and will be hand-delivered to you in person at your front door.

[0 – 450 Miles] = $1.50 per Mile from our cattery in Jacksonville Beach, FL to your front door

Kitten Nanny Accompanies in Cabin During Flight to Your Airport [$650 anywhere in the USA] – Your Kitten will ride in the cabin of an airplane, and be accompanied by a flight nanny until it safely reaches your arms at your airport.
We don't ship outside of the United States
Microchipping Provided for Your Kitten
Your Sassy Koonz Maine Coon kitten will be microchipped when he arrives in his new home. This will be done before your kitten ever leaves our cattery. You'll be provided with his microchip number for identification purposes. You can register your kitten in a National Database and have peace of mind should your kitten or cat ever manage to get lost.
Health Insurance for your Kitten
Every Sassy Koonz Maine Coon Kitten will be sent home with a 30-day Complimentary health insurance coverage policy. You can decide after 30 days whether to continue the coverage or not. It is always recommended to maintain an insurance policy for your pet to cover any unexpected expenses.
Lifetime Support for Every Kitten /Cat Owner
Questions about your kitten and/or cat will certainly come up. You will have lifetime support from a professional, who is happy to offer support and advice about your new pet.
---
Spaying /Neutering of Your Kitten
Every kitten will be spayed or neutered prior to going home unless the kitten is sold with breeding rights. There are no exceptions.